IRS Penalty Abatement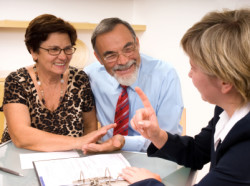 You know what happens when you don't pay off your credit cards on time: the interest and fees pile up and you end up owing way more than your original total. Well, the same is true when you fail to file or satisfy your tax obligations, only the penalties for nonpayment can be far more severe. Continue to ignore your tax troubles, and you could find your tax penalties accounting for 25% (or more!) of your overall tax debt. What's worse, you could get slapped with IRS wage garnishment, tax liens, and eventually tax levies, resulting in the loss of your paycheck, credit standing, and even your home. But you don't have to take on the tax authorities alone. For true confidence in the face of tax penalties, turn to The Levy Group of Tax Professionals.
Wherever you are in the Dallas area, The Levy Group is here to help you seek tax abatement and counteract the punitive effects of IRS tax penalties. Our tax attorneys and enrolled agents have more than 20 years of experience, and we're proud to serve the tax resolution needs of individuals and businesses alike. If you or your company is incurring the wrath of the IRS or state tax authorities, you can trust in our tax abatement professionals to go the distance for you. We provide complete assistance with the full range of tax penalty and tax abatement strategies, including:
IRS tax penalties: The minute you miss your filing or payment deadlines, the fees and penalties begin to accrue. The IRS imposes a failure to file penalty as well as a failure to pay penalty, and there may be other penalties applied, too. Depending on the reasons for your unpaid taxes and your ability to prove what happened, you may be eligible for the removal of one or more of these income tax penalties. Your representative at the The Levy Group of Tax Professionals can determine if your claim is valid, help you gather the necessary documentation, and negotiate your tax abatement with the IRS. Even if your tax penalty abatement is approved, however, you're still responsible for the original balance of your tax debt.
IRS Wage Garnishment: Once your outstanding debt reaches a certain point, the government may impose IRS garnishment, in effect retaining a portion of your paycheck to cover the amount you owe. If losing part of your compensation causes you undue financial hardship, The Levy Group of Tax Professionals can petition the courts to reinstate your wages and find an alternative method of repayment, such as an IRS installment agreement.
Tax Liens: When you're unable to cover your tax debt, the government has the option to place a lien on your property and freeze your assets. Though tax liens do not result in actual property seizure, they can seriously affect your credit as well as your ability to secure loans. The Levy Group of Tax Professionals is fully qualified to negotiate the removal of tax liens, keeping your assets and your credit rating out of the hands of the IRS.
IRS Summons and Seizures: An IRS tax levy is the government's final effort to collect your unpaid taxes. If you receive notice of an impending IRS tax levy, contact The Levy Group of Tax Professionals immediately—it's only a matter of time before the IRS seizes your home, vehicle, bank accounts, or other property. We'll petition to have the levy removed and, as with all tax abatement scenarios, we'll help you negotiate an IRS installment payment plan or other tax settlement.
IRS Installment Agreements: While one lump sum is too much for most people to cover, dividing the debt into monthly payments can make it easier to manage. In the majority of these tax abatement cases, an IRS installment agreement is the most effective way to secure repayment. The Levy Group of Tax Professionals can help to negotiate an IRS installment payment plan that works for you or your business, so you can rest easier knowing your debt is under control.
With the intensifying severity of IRS tax penalties, any attempt to pay off your delinquent taxes becomes a lost cause. You could be making gradual payments, but without a sufficient tax abatement plan in place, your tax penalties may be accumulating quicker than you can pay them off. If you're ready to break free from the grip of the IRS, call or e-mail The Levy Group of Tax Professionals ASAP. We're fully licensed and insured for your complete peace of mind, and we offer tax abatement services at prices lower than other Dallas-area firms. Best of all, we'll go above and beyond to get your tax penalties lifted, including working around the clock if that's what it takes to bring you tax relief.
To learn more about what The Levy Group of Tax Professionals can do for you, call or e-mail our Dallas office today! We look forward to setting you free from harsh IRS tax penalties.
IRS Tax Penalties
IRS Tax Levy Assistance
IRS Tax Help
Tax Lien Relief
IRS Garnishment Help