Payroll Tax Problems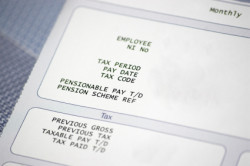 Government red tape is notorious for spinning a complex web of rules and regulations. Taxes are certainly a case in point, as are payroll processing requirements. With all the hoops you have to jump through in order to operate your business, it's easy to see how IRS payroll matters could sometimes result in slipups. If you have business tax debt due to discrepancies with your payroll, or you're interested in outsourcing your payroll responsibilities, The Levy Group of Tax Professionals is the Dallas-area company to call. We're on the job 24/7 to bring you business tax relief, and no issue is too big or small for our IRS payroll assistance. Give us a call today!
For more than 20 years, The Levy Group of Tax Professionals has been a trusted source of company tax relief for businesses of all sizes. Today, we extend our expert tax resolution to include IRS payroll services and business tax debt reduction. Whether you're in need of payroll tax help or you're facing fines for IRS payroll problems, our tax attorneys and enrolled agents have your concerns covered. We're thoroughly up to date on the latest IRS payroll requirements, and we'll work diligently to help you avoid the costly consequences of unpaid payroll taxes. From taking care of a payroll tax penalty to strategies for business tax relief, you can count on our family-owned company to serve your company well.
Regardless of how many employees you have or what type of payroll tax penalty is giving you problems, turn to The Levy Group of Tax Professionals for complete assistance with:
Paperwork or filing missteps
Bookkeeping errors
Withholding requirements
Social Security and Medicare disbursements
Misclassification of employees
Failure to pay IRS payroll taxes
And other payroll tax problems
As with any type of business-related tax issue, the key when it comes to payroll tax problems is to seek resolution at the first sign of trouble. The longer you have unpaid payroll taxes adding up, the more penalties and fees your company will incur. Eventually, the government could take drastic measures against you, such as revoking your business license or issuing a notice of seizure for your assets. To protect your property and livelihood, contact The Levy Group of Tax Professionals to discuss business tax relief strategies right away. We offer some of the quickest turnaround times in all of Dallas for resolving business tax problems, and we promise to be here 24/7 to help with your IRS payroll obligations.
And remember... the Levy Group of Tax Professionals makes every effort to keep our rates reasonable, including our prices for payroll tax help. When you're facing a business tax debt, you need IRS payroll specialists who can bring an end to your company tax problems, not overpriced accounting firms that will only be a drain on your finances. The Levy Group of Tax Professionals is pleased to offer free cost estimates on payroll tax help and other company tax relief services to help you stay on budget. Call or e-mail us now to arrange for your free consultation!
Don't trust your IRS payroll issues to just any Dallas-area tax advisor. For expert payroll tax help to guide you safely through the maze of red tape, go with the business tax relief specialist rated A+ by the Better Business Bureau. The Levy Group of Tax Professionals is fully licensed and insured for your complete assurance. We're standing by now to take your call!
payroll tax help
irs payroll
payroll tax penalty